(Cross-posted from SAJAforum)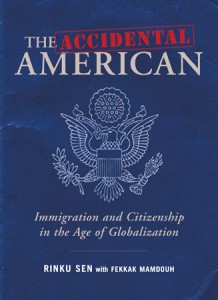 This month, Rinku Sen launches a new book, "The Accidental American: Immigration and Citizenship in the Age of Globalization." In the book, Sen, along with Fekkak Mamdouh, narrates the story of the Restaurant Opportunities Center of New York, an organization that supports and organizes workers in New York's restaurant industry. ROC-NY was initially founded by Mamdouh and fellow organizer Saru Jayaraman to support workers, like Mamdouh himself, who were displaced from their jobs at Windows on the World, the restaurant that was at the top of the World Trade Center's North Tower. In the aftermath of the 2001 terrorist attack, which claimed the lives of 72 individuals who worked at Windows, ROC-NY helped the surviving Windows workers launch a cooperatively-owned restaurant, Colors. Since then, the organization has expanded its work to organize and advocate for improved working conditions for restaurant workers throughout New York City, and has explored the prospects for expanding its work nationally.
Sen and Mamdouh tell the story of ROC-NY's founding and the ups and downs of its subsequent campaigns on behalf of New York's restaurant workers, critically assessing the challenges faced by advocates for immigrants' rights and drawing lessons from the local story about ROC-NY for the broader, national debates over immigration reform and globalization. Sen previously wrote about ROC-NY in a 2007 article, and she and Mamdouh discuss the themes of the book in a short video prepared in connection with the book's release. They launch a national book tour in New York on September 3, 2008 (details are available here).
Sen is currently president and executive director of the Applied Research Center and publisher of ColorLines, ARC's magazine on race and politics. She began her career as an organizer in 1988 with the Center for Third World Organizing and was named one of Ms. Magazine's "21 Feminists to Watch in the 21st Century" back in 1996. Her previous book, "Stir It Up: Lessons in Community Organizing and Advocacy," offers advice for activists and social change organizations based on her own experiences as an organizer and other case studies. She recently answered a few questions from SAJAforum about her new book, the role of journalism in her work as a community organizer, and her views on the current debate over immigration reform:
Continue reading at SAJAforum....

Posted by Anil Kalhan